Linnea
---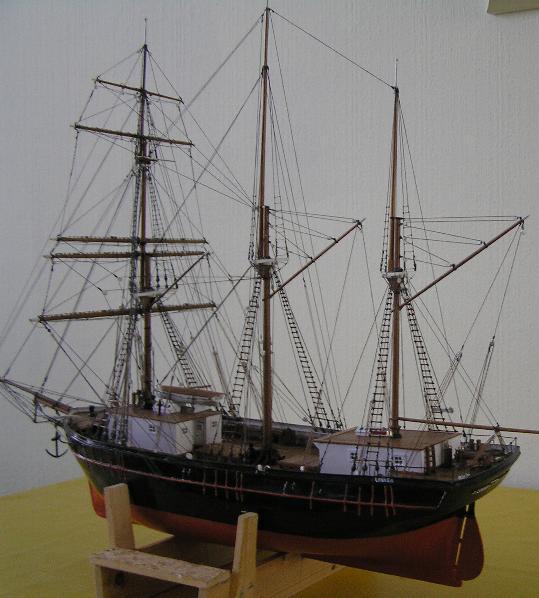 1:75 scale model of the wooden barquentine Linnea, 1875-1890. The Linnea was of 300 NRT and measured 36.5 m in overall length, 11.9 m width, and 4.5 m depth. She was an extremely wide ship, which must have limited her sailing qualities, and had a deep keel (0.95 m) to compensate. She also had high rigging, with the mainmast 29.7 m above the deck. The model is now in the Pellas Shipmaster's House, a museum on Lemland, Åland Islands, Finland.





---
When the restrictions for Finnish shipping were abolished after the Crimean war (1857), a boom in building of small wooden ships happened on Åland as well as on the Finnish mainland. Sideby was the centre of shipbuilding on the mainland, where about 200 wooden ships were built during the second half of the 19th Century. One of the best known was the wooden three-masted barquentine Leo, 1870-1898, ordered by Lemland owners. Her first captain and "huvudredare" (head owner) went to Sideby and was responsible for the rigging. The remains of the ship is still seen in the Lumparsund. The Åland fleet in the second half of the 19th Century was made up of such ships, locally made ships (often smaller), and foreign-built wooden ships. The first iron and steel sailing vessel was bought after 1893; in that year 121 wooden ships over 100 tons were registered in Åland.
The wooden barquentine Linnea is a good example of the larger Åland built ships. She was built by the master shipbuilder and farmer Johann August Henriksson, who built 15 wooden sailing ships between 1870 and 1920. His last ship was the wooden barque Fred, 1920-1933. The recently rebuilt galleas Albanus was also designed and built by him. As with all Åland barquentines of that time, Linnea had a spencer sail on the foremast. This construction makes the ship look similar to a topsail schooner, and in some cases there is still discussion whether a ship was a barquentine or a topsail schooner. In Swedish and French both these types of ships are called schooners.
---
Construction
---
Museum
The model is now in the Pellas Shipmaster's House, a museum on Lemland, Åland Islands, Finland, under photographs of Gustaf Erikson, the last owner of a fleet of commercial sailing ships, and his wife Hilda.
---
© Copyright R. E. Willemsen 2010-