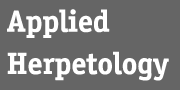 Applied Herpetology Index
---
Applied Herpetology has ceased publication with the last issue of 2009, after six volumes and 2324 pages. The editors thank authors, referees, and publishers for their past support of the journal.
---

An international journal addressing the relationships between humans and amphibians and reptiles. Applied Herpetology is indexed by Journal Citation Reports (JCR) from 2008.
Mike J. Tyler (Adelaide) takes over from Michael Lambert.
Electronic-only submission now required.
New section from 2007: Instructions to authors.
Table showing the status of manuscripts in review and publication. (Hosted separately for web FTP - click "No" to any error messages offering to debug, which result from the associated advertising.)
Free access to online version of sample issue.
Published by Brill; subscribe online.
Listing of corrections to published papers.

---
Text version (high accessibility)